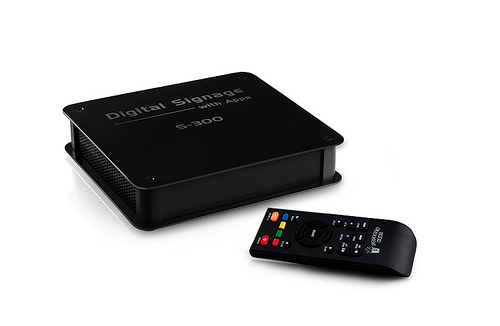 Reach Your Audience
The only digital signage solution you need for all your various advertising applications. BM Digital  Signage provides a simple and cost-effective platform to roll out your product advertisement, announcement for schools, informational displays or directional signage at offices or shopping malls.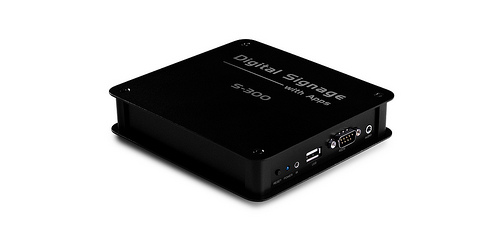 No Subscription or Additional Hardware Needed
You do not need to buy additional software or hardware, BM Digital Signage provides all the tools you need to get started on your projects or marketing campaigns. BM Digital Signage ncludes user-friendly digital signage software for both PC and MAC.
Gambar Applikasi Gratis / CMS Digital Signage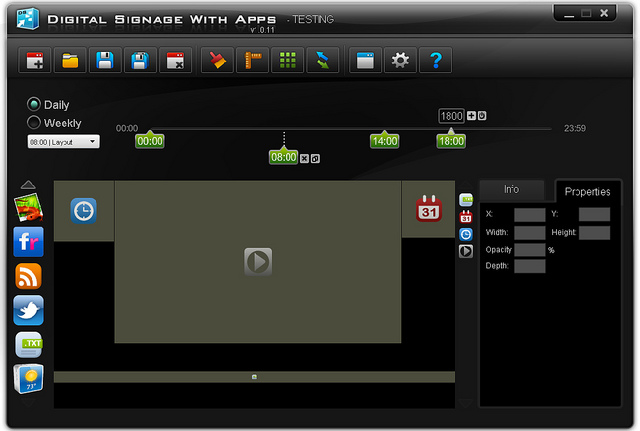 The new digital signage software provides a user-friendly drag and drop environment. With bundled apps, you can easily include a beautiful clock and date overlaying your videos or pictures. Add a ticker tape for quick announcements or RSS feeds. Powered by Flash Lite Digital Home, you can easily deploy your customized apps to cater to your unique requirements.
List of included apps:
Clock
Date
Media Player (Supports a wide variety of video codecs)
Picture Slideshow
Flickr Slide Show
RSS Reader
Live Twitter Feed
Text Ticker Tape
Weather Bug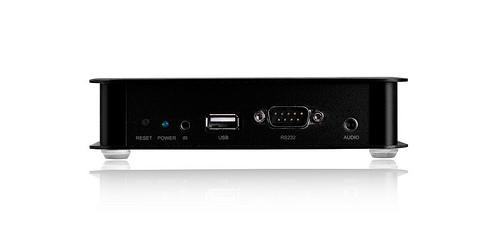 Key features:
Timeline Scheduling; schedule for different days, hours and even minutes.
Flexible project transfer option. (USB, FTP or Local)
Drag and Drop interface. Organize your screen layout by simply dragging the items you want and resizing them to fit your needs.
Support for online media with HTTP paths. (Internet connection required)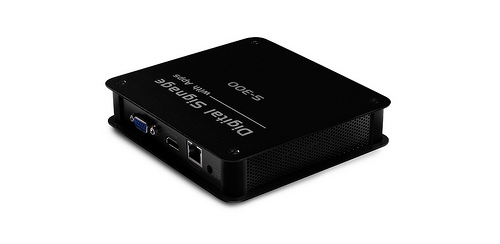 Powerful Full HD Media Player
Supporting virtually every popular video codec or container, the S-300 makes it convenient for you to deploy your high definition video advertisements. No complicated conversions required.
Small form factor
Measuring only 150mm x 136mm, you can easily stash away the S-300 behind your TV and out of view. With the extended IR port, you can still easily control the S-300 on sight.
Technical Specification
Software Specifications
Video containers:
MPEG 2 Transport Stream, MPEG 1/2 Program Stream, AVI, ASF, WMV, Mastroska (MKV), MOV (H.264), MP4 (H.264), FLV (H.264)
Video Decoders:
XVID SD/HD, MPEG-4.2: ASP@L5, 720p, 1-point GMC, WMV9 : MP@HL, H.264 : BP@L3, MP@L4.0, HP@L4.0, HP@L4.1, VC-1 : MP@HL, AP@L3
Audio Containers:
AAC, M4A, MPEG audio (MP1, MP2, MP3, MPA), WAV, WMA, FLAC, OGG
Audio Decoders:
WMA, WMA Pro, AAC, MP1, MP2, MP3, LPCM, DTS, FLAC, Vorbis
Photo Formats:
JPEG, BMP, PNG, GIF
Hardware Specifications
Memory:
256MB DDR SDRAM, 256MB NAND Flash
Audio/Video:
HDMI, VGA, Stereo Analog Audio Jack
Other Interface:
Serial Port, IR jack, 2 X USB 2.0 host (1x external, 1x Internal), Hardware Reset Button
Network:
Ethernet 10/100 Mbps, WN-160 (Optional)
Power:
100-240V AC, 50-60 Hz, max 2.5
Dimension:
Width x Depth x Height : 150mm X 136mm X 30mm
Weight:
0.88 lbs (400g)
Casing
Vented Aluminum Body, Fanless, Quiet Operation
Package Contents
1 x BM Digital Signage
1 x 4GB USB Flash Drive
2 x AAA Battery
1 x HDMI Cable
1 x IR Cable
1 x IR Remote Control
1 x Quick Start Guide
1 x Warranty Card